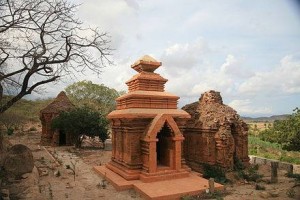 Tháp Cham xuống cấp, càng xuống cấp nhanh hơn khi văn hóa du lịch phát triển kéo theo một lượng lớn du khách đến với tháp. Ở đây điều đáng nói hơn cả là, sự xuống cấp đến từ chính CÁCH NHÌN của cơ quan chủ quản, bộ phận trách nhiệm bảo tồn và làm đẹp tháp.
Tôi đã nói nhiều lần ở các diễn đàn khác nhau, nhấn về 3 điểm: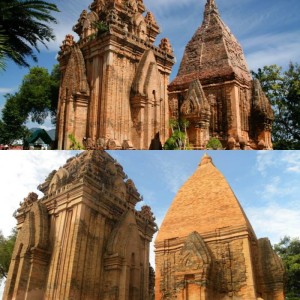 1. ĐỐT NHANG: làm đen gạch tháp, tổn hại di tích, ô nhiễm môi trường, và khiến du khách dị ứng.
2. NÂNG TƯỢNG THÁP: Tượng chính luôn đặt giữa Kalan trên bệ tượng rất thấp, để Po Adhya làm lễ và tín đồ quỳ-nằm rạp người lạy (talabat). Đó là truyền thống văn hóa Cham. Nay để phục vụ cộng đồng Việt thường đứng khấn vái, người ta đã nâng bệ tượng ngang người và đặt tượng Po lên đó. Như vậy, khi bà con Cham lạy, thì họ LẠY BỆ TƯƠNG, chứ không phải lạy Po nữa.
Câu hỏi: nâng bệ tượng để phục vụ ai?
3. PHỤC CHẾ & TÔN TẠO, là cần, nhưng việc làm mất bản gốc hay phản bản gốc thì sao?
Hôm qua, Lam Dang viết Stt ngắn kèm bức ảnh tháp Po Dam – Tuy Phong, Bình Thuận:
Tạm dịch:
Tôi không có mặt ở Po Dam nên không biết chắc Wikipedia đưa tin về ảnh này có đúng không, nếu quả thế thì phải nói: khủng khiếp thật. Đây có vẻ như là một ngôi tháp được tái xây dựng bên cạnh bản gốc bị hủy hoại. Vậy điều gì xảy ra với một bản sao, khi họ đã hoàn toàn loại bỏ bản gốc?
[I have not been to Po Dam so do not know for sure what this pic (from wikipedia) represents but what it looks like is dreadful. This looks like a modern reconstruction next to the ruined original. So what happened after they built a copy? They completely removed the original?
Trích các phản hồi sau đó:
Lam Dang: The damage (crime) here is to the memory of Cham architecture. When I look at the new structure my first thought was that the architect just went on vacation to Bali. Where is the evidence that the Chams built that way? In years to come people will come to believe that's genuine Cham architecture.
Shlah William: CRIME AGAINST CULTURE!!!!
Tim Doling: They didn't try to rebuild the G group towers at Mỹ Sơn, they stuck to the principles that when heritage features are damaged or deteriorated, repair and restoration are preferable to replacement, and new construction shouldn't damage or conceal existing heritage features
Charlie Wallace: What were they supposed to do, let it fall down? its a difficult line to navigate.
Nico Fourie: They obviously don't have a clue about conservation and restoration and probably broke Vietnamese laws in the process. I will never go there again and one might as well contact UNESCO and tell them the place is being destroyed.
Tim Doling: Partial reconstruction to preserve integrity would have been infinitely preferable to a totally inappropriate reimagining of the entire roof and portal.
Lam Dang: They could have cleaned and reinforced the original and built a complete replica nearby if desired. There is a concept called authenticity which means that structures should be kept in the shape they were found without additional modification (think the Coliseum in Rome). This is to make sure that everything about the structures is known before they are modified: architecture, construction materials, decorative details, mortar used, whatever artifacts or signs the builders may have left etc. The structure albeit in ruin may be the only window in time to 10th (?) century Champa. A new structure, even if good looking, from 21st century VN does not have the same historical interest.