Song ngữ Việt – Anh
Translated from the Vietnamese by Alec G Schachner
In lần thứ 3
NXB Văn hóa – Văn nghệ, I-2015
208 trang – Khổ 20,5×14,5cm – Giá bìa: 90.000đồng.
Tập thơ in lần thứ 2 song ngữ Việt – Anh, bản tiếng Anh do nhà nghiên cứu Nguyễn Tiến Văn và 6 bạn thơ dịch; nay Lễ Tẩy trần tháng Tư có văn bản tiếng Anh mới, do nghệ sĩ – giảng viên văn học Mỹ dịch.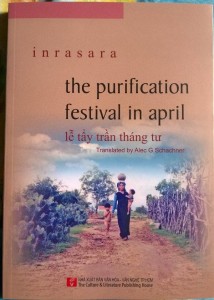 Translator's Introduction
This collection represents a broad range of Inrasara's poetic oeuvre to date, tracing his diverse journeys through storytelling, forays into a varying array of narrative modes and transitions through lyric and narrative verse. Like all great storytellers, Inrasara pulls from a wide network of experience, weaving together the past and the present into a tapestry of the personal and collective, blending the real and the mythical. Wandering across history, literature, folklore, song, philosophy, Hinduism, Buddhism, pop culture, myth, war, peace, harvest, community, tradition, dream, language, ritual, epic and the everyday, Inrasara's poems sing not only the song of the Cham people in modern Vietnam, but also of all human experience – of our imagining of self and of the myriad innermost emotional lives of globalization and modernity. Deeply rooted in his readings of the Cham epics, Inrasara's verse somehow also resonates with the flowing lines of Whitman and Hughes, a montage of human experience and insight, both singular and universal.
Inrasara's use of the Vietnamese language is highly complex and philosophical, and naturally impossible to translate into English to its full extent. All Cham language terms have been italicized and left in the original, with an index of notes provided at the back of this book. This collection meanders through the languages of the classic Cham and Vietnamese epics, colloquial Cham, modern Vietnamese, Sino-Vietnamese, Sanskrit, classical Chinese, Zen philosophy, folksong, physics, ecology and beyond. Through use of linguistic elements which do not exist in English, such as bound morphemes and a complex pronoun address system, Vietnamese contains a multitude of subtleties which are essentially untranslatable. I have attempted to retain the original flow of the language wherever feasible, translating on a line-to-line basis when able and often retaining the Vietnamese order of information, to stay as true to the original narrative architecture as possible. I hope that the reader will find this bilingual edition not only a guidebook to Cham culture, tradition and daily life, but also a useful tool to engage with the depths of the modern Vietnamese language. Inrasara's epical lingual explorations wander through lyric verse to freeform, short odes to long narratives, across the geography of native land and soul, inviting the reader into a world both known and unknown, foreign and familiar, ordinary and wondrous.
-A.G.S.
Sách mới: The Purification Festival in April - Lễ Tẩy trần tháng Tư

,